August V. Kautz
From FortWiki
August Valentine Kautz (1828-1895) - Born 5 Jan 1828, Baden, Germany. A career U.S. Army infantry and cavalry officer and United States Military Academy graduate who served in the Mexican War, U.S. Civil War and who rose to the rank of regular Brigadier General and brevet Major General. Died 4 Sep 1895 in Seattle, Washington.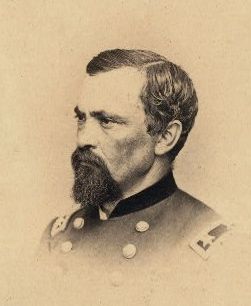 About 1828 his parents emigrated to the United States and settled in Baltimore, Maryland. In 1832 they relocated to Brown County, Ohio. He attended school in Georgetown, Ohio, and during the first year of Mexican War served as a Private, 1st Ohio Infantry. A Year after discharge, he entered the United States Military Academy 1 Jul 1848 and graduated 1 Jul 1852 in the Class of 1852 ranking 35th out of 43.
He served for number of years in Pacific Northwest, where was twice wounded during engagements with Indians during the Snake River and Rogue River campaigns. He defended Chief Leschi's innocence in the 1857 murder trial.
While stationed at Fort Steilacoom in 1857, he made a well documented attempt to climb Mount Rainier with four soldiers, a Nisqually Indian guide and the Post Doctor. He reached a point about 400 feet shy of the summit and had to turn back.
During 1859 and 1860 Lt. Kautz took a leave of absence and traveled in Europe, returning to the northwest in Dec 1860, just prior to the beginning of the U.S. Civil War.
At the outbreak of the U.S. Civil War Lt. Kautz returned to Washington D.C. With the reorganization of the Regular Army in May 1861 he was made a Capt. of the new 6th U.S. Cavalry, and served in the Washington, D.C. defense.
In Sep 1862, he was made Colonel of the 2nd Ohio Cavalry Volunteer Regiment and was sent to Fort Scott (2) on the Kansas frontier. In the following year, after some duty in command of Camp Chase, Ohio, he took part in the pursuit and capture of Confederate General John Hunt Morgan in the course of latter's raid into Kentucky and Indiana.
From Apr 1864 to Mar 1865 he commanded a Division of Cavalry in Benjamin F. Butler's Army of the James, having been made Brigadier General of Volunteers 7 May 1864. He took part in a number of operations against various Confederate lines of supply coming into Richmond and Petersburg, including the fight at Ream's Station on 29 Jun 1864, during James Harrison Wilson's raid. In Mar 1865 was shifted to command of a Division of Negro troops at the head of which he entered the Confederate capital on 3 Apr 1865.
Post War
In May and June 1865 he was one of the members of military commission that tried the conspirators in the assassination of President Abraham Lincoln.
He was appointed lieutenant colonel of the 34th U.S. Infantry in 1866, 14th U.S. Infantry in 1867, and transferred to the 15th U.S. Infantry in 1869. He commanded this regiment on the New Mexico frontier until 1874, establishing the Mescalero Apaches on their reservation from 1870 to 1871. In Jun 1874 he was promoted to colonel of the 8th U.S. Infantry, and was placed in command of the Department of Arizona in 1875. He served in California from 1878 to 1886, and in Nebraska from 1887 until his retirement on 5 Jan 1892.
During his years at various Indian posts on frontier he wrote several military books including The Company Clerk (1863), Customs of Service for Non-commissioned Officers and Soldiers (1864), and Customs of Service for Officers (1866).
He was the brother of Rear Admiral Albert Kautz. His retirement years were spent in Seattle, Washington. He died in Seattle 4 Sep 1895.
He is interred in Arlington National Cemetery, Section 2, Grave 992.

---
Father: George Kautz (1800-1888) - Born 6 Nov 1800, Ispringen, Baden, Germany. Died 22 Feb 1888.
Mother: Dorthea Lewing (1800-1874) - Born 16 Oct 1800, Hesse-Kassel, Germany. Died 1874
Marriage:
Kitty Etta Quaymuth (1838-1891) - Born about 1838 in Pierce County, Washington. Married Jul 1853, Pierce County, Washington Territory (Nisqually ceremony). Died 1891.
Charlotte Delamater Tod (1845-1868) - Born 1845 in Brier Hill, Mahoning County, Ohio. Married 14 Sep 1865. Died in 6 Aug 1868. Daughter of Ohio Governor Tod.
Fannie Markbreit (1850-1913) Born Jun 1850, Baden, Germany. Died 11 Aug 1913 and is buried with her husband. Married 27 Nov 1872, Hamilton County, Ohio.
Children:
By Kitty Etta Quaymuth

Nugen(t) Kautz (1857-1928) - Born 17 Mar 1857, Fort Steilacoom, Pierce County, Washington. 1928 Puyallup Indian Census.
Augustus Kautz (1859-1935) - Born 9 Feb 1859. Shown in 1888 Indian Census & 1928 Puyallup Indian Census. Died 1935.

By Charlotte Delamater Tod
By Fannie Markbreit

Austin Kautz (1873-1927) - Born 11 Sep 1873, Kentucky. Died 1927.
Francisca Kautz (1875-1962) - Born Apr 1875, Arizona Territory. Died 1962.
Navarra Kautz (1882-1970) - Born 14 Jul 1882, Angel Island, Marin County, California. Died Feb 1970.
Assignments:
(1848-1852) Cadet, U.S. Military Academy, West Point
(1852-1853) Bvt. 2nd Lt. (1 Jul 1852) 4th U.S. Infantry, Fort Vancouver, Washington, (Dec 1852 - spring 1853)
(1853-1853) 2nd Lt. (24 Mar 1853) 4th U.S. Infantry, Fort Steilacoom, Washington
(1853-1856) 1st Lt. (4 Dec 1855) 4th U.S. Infantry, Fort Orford, Oregon (Oct 1853 - Jan 1856)
(1856-1858) 1st Lt., 4th U.S. Infantry, Fort Steilacoom, Washington (Feb 1856 - Oct 1858)
(1859-1860) 1st Lt., 4th U.S. Infantry, Leave of absence traveling in Europe (spring 1859 - Dec 1860)
(1860-1861) 1st Lt., 4th U.S. Infantry, Fort Chehalis, Gary's Harbor, Washington Territory (Dec 1860 - May 1861)
(1861-1865) U.S. Civil War
(1866-1866) Mustered out of volunteer service 15 Jan 1866
(1866-1869) Ltc. (28 Jul 1866), 34th U.S. Cavalry, various post in Mississippi
(1869-1869) Ltc. 15th U.S. Infantry, Fort Craig, New Mexico
(1869-1872) Ltc. 15th U.S. Infantry, Fort Stanton, New Mexico
(1872-1873) Ltc. 15th U.S. Infantry, Newport Barracks, Kentucky
(1873-1874) Col. (8 Jul 1874) 8th U.S. Infantry, Fort Garland, Colorado
(1874-1875) Col. 8th U.S. Infantry, Commanding regiment and Fort Whipple (2), Arizona
(1875-1878) Col. 8th U.S. Infantry, Commanding Department of Arizona at Prescott, Arizona
(1878-1880) Col. 8th U.S. Infantry, Benicia Barracks, California
(1878-1886) Col. 8th U.S. Infantry, Camp Reynolds, Angel Island, Marin County, California
(1887-1890) Brig. Gen. (20 Apr 1891) 8th U.S. Infantry, Fort Niobrara, Nebraska
(1891-1892) Brig. Gen., commanding Department of the Columbia at Vancouver Barracks, Washington
(5 Jan 1892) Retired from active service over 64 years old
Personal Description:
Height: Medium, 5' 10"
Build: Strong
Hair Color:
Eye Color:
Misc: Fine head and kindly eye
Sources:
Wallace, Andrew, Gen. August V. Kautz and the southwestern frontier, Tucson, 1967
Links: