Granville Haller
From FortWiki
Granville Owen Haller (1819-1897) - born 31 Jan 1819 in York, Pennsylvania. Died 2 May 1897 in Seattle, Washington. He was a noted Indian fighter and military officer, as well as a wealthy antebellum businessman in the Seattle, Washington, area. During the U.S. Civil War, he was charged with the defense of south-central Pennsylvania during the early days of Gettysburg Campaign prior to the arrival of the Army of the Potomac.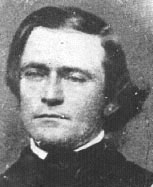 Early life and career
Haller was born and raised in York, Pennsylvania. After Haller graduated in 1838 from the York County Academy, the board of trustees recommended him for an appointment to the United States Military Academy. He did not receiving Senator James Buchanan's appointment to West Point. Haller was invited to appear before a board of military officers in Washington DC, where he was examined, and on 17 Nov 1839, was commissioned a 2nd Lt. in the 4th U.S. Infantry Regiment, although not quite twenty-one years of age.
He fought in the second Seminole War and later served with distinction at the battles of Monterrey, Veracruz, and other actions during the Mexican War, officering in the same regiment as Ulysses S. Grant. He distinguished himself in the Battle of Churubusco, where he took a key part in the assault on Molino del Rey. In 1852 Haller was promoted to major and transferred to the Washington Territory, where he joined the 7th U.S. Infantry and hunted down Indians who were part of localized insurrections.
In Jul 1853 he was stationed at Fort Dalles, Oregon. In Aug 1854 he marched to assist the survivors of the Alexander Ward party killed by the Snake Indians on the Oregon Trail. Out of 20 members of the party 18 were killed. Haller buried the bodies and returned to the Fort Dalles. The next spring Haller was ordered to find the party responsible for the Ward killings. He found the Win-nas band of the Snakes and pursed them as far as the headwaters of the Missouri River. During this pursuit he killed the same number of Indians and whites had been killed.
On October 3, 1855, Granville Haller, with a force of 106 soldiers, Near Toppenish Creek they encountered a force of about 600 Yakama Indians. The Yakama numbers increased to about 1500, and Haller, determining that he was severely outnumbered, called a retreat. About 250 warriors followed, fighting the soldiers intermittently. Haller's force suffered casualties numbering five killed and seventeen wounded. Major Haller was criticized by General Wool for a lack of precautions with regard to Indian warfare.
After the Yakima and Pig wars Haller and his Company I, 4th U.S. Infantry were transferred to Fort Mojave, on the bank of the Colorado River, in August 1859. The fort was abandoned in 1861 and Haller and men marched 387 miles to San Diego and assumed command of the barracks there.
Civil War and later career
After the Civil War started, Haller commanded George B. McClellan's headquarters guard during the Peninsula Campaign and again in the Maryland Campaign. In May of 1863, he returned to his native York to recover from illness contracted in the field. In June, Maj. Gen. Darius N. Couch appointed Haller to command the defenses of Adams County, Pennsylvania and York County, Pennsylvania counties in south-central Pennsylvania. During the Gettysburg Campaign, Haller retreated from Gettysburg to Wrightsville, Pennsylvania, where his militia burned the covered bridge to prevent passage over the Susquehanna River by a Confederate States Army brigade under John B. Gordon.
Accused by naval officer Lt. Clark Henry Wells of disloyal conduct and sentiments after the Battle of Fredericksburg, Haller was dismissed from the service in July 1863 by Special Order 331. Haller was not told he had been accused of disloyal comments to the Union.
He eventually returned to the Northwest and became prominent in Seattle business and industry. Congressional friends convinced the Army in 1873 to convene a court of inquiry, which exonerated him. President Rutherford B. Hayes helped him secure the regular army rank of colonel.
In May 1880 he was assigned to command the 23rd U.S. Infantry Regiment at Fort Supply (2) in Oklahoma. He then served in Kansas and New Mexico. He retired at age 64 and moved back to Seattle.
Haller built a mansion called Castlemont in Seattle's fashionable First Hill neighborhood. After his death 2 May 1897 at the age of 78, he was buried in Seattle's Lakeview Cemetery.
Haller Lake in the state of Washington is named for Haller's son, Theodore Haller.
Father: George Haller (????-1821)
Mother:
Marriage:
Henrietta Maria ?????? (1824-1910) Born 20 Sep 1824, Ireland. Died 23 May 1910
Children:
Theodore Newell Haller (abt1864-) Born about 1864 in Pennsylvania. Married Anne Cox in California, 1887.
Alice Mae Haller (abt1850-) Born in Pennsylvania about 1850. Married 2nd Lt. William A. Nicholes, 7 Dec 1881
George Morris Haller (abt1853-1869) Born in Pennsylvania about 1853. Died 1869 by drowning.
Charlotte Elenor Haller (abt1855-) Born in Oregon about 1855.
Henry G. Haller (abt1857-) born in Washington Territory about 1857.
Assignments:
(1841-1842) 2nd Lt., Seminole War, Florida
(1843-1845) 2nd Lt., Adjutant of 4th U.S. Infantry
(1845-1846) 2nd Lt., 4th U.S. Infantry
(1846-1848) 1st Lt. (12 Jul 1846), 4th U.S. Infantry
(1848-1852) Capt. (1 Jan 1848), 4th U.S. Infantry
(1852-1853) Capt., In route to Washington Territory on U.S. store ship Fredonia (7 months)
(1853-1856) Bvt. Maj., 7th U.S. Infantry, Fort Dalles, Oregon
(1856-1860) Bvt. Maj., a post near Fort Townsend
(1860-1861) Bvt. Maj., Fort Mojave
(1861-1861) Bvt. Maj., San Diego Barracks, California
(1861-1863) Maj. (25 Sep 1861), 7th U.S. Infantry
(1863-1863) Maj., dismissed the service for disloyalty, and the utterance of disloyal sentiments
(1879-1882) Col. (11 Dec 1879), Reinstated as a Colonel in the 23rd U.S. Infantry
(1882) Retired 6 Feb 1882
Personal Description:
Height:
Build:
Hair Color:
Eye Color:
Sources:
Haller, Granville O., The Dismissal of Maj. Granville O. Haller of the Regular Army of the United States by Order of the Secretary of War in Special Orders, 331, of July 25, 1863. Patterson, NY: Daily Guardian Offices, 1863.
Haller, Theodore, "Granville O. Haller," The Washingtonian, Vol. 1, No. 3, (Tacoma: Washington State Historical Society, 1900).
Links: