Camp Matthews
From FortWiki
Camp Matthews (1942-1964) - A Marine Corps Camp first established during World War I near La Jolla, San Diego County, California. Known as Marine Rifle Range, La Jolla, under Marine Corps Base, San Diego. Expanded during World War II and officially named Camp Matthews on 23 Mar 1942 after then Lieutenant Colonel Calvin B. Matthews, USMC, who was a Marine Corps marksman. Abandoned in 1964.
History of Camp Matthews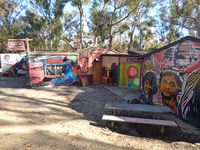 Establishedin 1918 during World War I as a Marine Corps rifle range to train recruits. The first headquarters buildings were built in 1927 and the first detachment barracks were built in 1928. During the 1930s and 1940s, more buildings and barracks were constructed as well more firing ranges. During these years, the base had no official name but was called Marine Rifle Range, La Jolla.
Expanded after the start of World War II to a permanent garrison of some 700 and fixed facilities including an administrative building, mess hall, postoffice and theater. During World War II, the camp processed as many as 9,000 marines every three weeks. Training continued through the Korean War.
By 1956 there were six rifle ranges, one pistol range, one mortor/flame thrower/hand grenade/bazooka range, three small bore ranges, one skeet range and three school ranges. Camp buildings consisted of seven barracks, approximately 270 tents, administrative buildings, quartermaster storerooms, magazines, armory, maintenance shops, service station, and main post exchange.
Closure
In the 1960s civilian development forced the Marine Corps to close the camp. The Marine Corps then shifted recruit and other weapons training to Camp Pendleton (2) at Seaside California where it continues to this day. Camp Matthews officially closed on 21 August 1964.
Current Status
Much of the former camp is now part of the campus of the University of California at La Jolla and the La Jolla VA Hospital. A memorial plaque is located on the campus. The actual remaining structures are few in number and most heve been extensivel modified and repurposed. One of the Camp's concrete sentry boxes has been preserved on the east side of the campus. Plexiglass has been used to protect and display the G.I. graffiti inside the sentry box. The most colorful remaining building is probably the Che Cafe on the south side of the campus
---
Former Camp Matthews Buildings
Current Building
Original Use
GPS
Notes
Sentry Booth
Sentry Booth
32.88085,
-117.22035
Che Cafe Building
Unknown
32.87256,
-117.23918
Stuart Collection Storage
Unknown
32.88442,
-117.22933
Seaweed Canyon Quonset Storage
Unknown
32.86457,
-117.24925
Cross Cultural Center
Unknown
32.87978,
-117.23376
517 University Center
Unknown
32.87968,
-117.2329
409 University Center
Unknown
32.87907,
-117.23473
401 University Center
Unknown
32.87816,
-117.23602
302 University Center
Unknown
32.878,
-117.235377
301 University Center
Unknown
32.87772,
-117.23586
202 University Center
4 Relocated Buldings
32.87755,
-117.23674
201 University Center
Mess Hall
32.87763,
-117.23651
---
Location: La Jolla, San Diego County, California.

Maps & Images

Lat: 32.87764 Long: -117.23704
See Also:
Sources:
Links:
Visited: 5 Nov 2015