Edward J. Steptoe
From FortWiki
Edward Jenner Steptoe (1816-1865) - Born 7 Nov 1815 in Bedford County, Virginia. Died 1 April 1865 near Lynchburg, Virginia.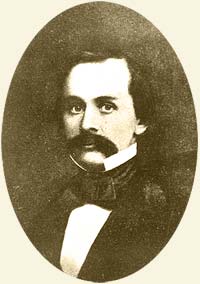 Edward J. Steptoe graduated from the United States Military Academy, Class of 1937, on 1 July 1837. He served in the Second Seminole War in Florida from 1838 to 1842. From 1842 to 1846 Steptoe was stationed at the following posts: the United States Military Academy; Fort McHenry, Maryland; Savannah, Georgia; Fort Marion, Florida; and Fort Moultrie, South Carolina.
During the Mexican War, he was engaged in the Siege of Vera Cruz and, as a captain, fought in the battles of Cerro Gordo and San Antonio Garita. He was promoted to brevet major for gallant and meritorious conduct at Cerro Gordo, and to brevet lieutenant colonel as a result of his actions in the Battle of Chapultepec.
After the war, he served at Fort Adams (1), Rhode Island; in the Third Seminole War in Florida, 1849-50; and in garrison at Fort Adams (1) again, 1851-53. For part of the next year, Steptoe was a member of a commission to evaluate whether there should be civil or military supervision of the national armories. He served the remainder of the year in garrison at Fort Wood, New York.
In the early summer of 1854, Steptoe was sent with a command of 175 soldiers and 150 civilian employees to Washington Territory to reconnoiter a military road to California and he was also sent to investigate the massacre of Captain John W. Gunnison and his party in Utah. Reaching Salt Lake City on 31 August, he chose to spend the winter with his troops in the Mormon capital while wintering his herd of 1,000 horses and mules in Rush Valley, south of Tooele, Utah.
Although he and his men had had good relations with the Mormon citizens during the winter, by spring he was writing to Washington, D.C., that a force of troops be sent to control the Indians in southern Utah because they were under the control of Mormon authorities. He soon left Utah for the West Coast.
By 1855 Steptoe was back East in garrison at Fort Monroe, Virginia. The fortunes of military life moved him the next year to Washington Territory, where he was soon engaged in the defense of Cascades, Fort Dalles, and Fort Walla Walla. He also participated in the Yakima and Spokane expeditions of 1856 and 1858, and he was involved in the battle of To-hots-nim-me, Washington, against hostile Indians on 17 May 1858. As a result, Steptoe was forced to take sick leave for the next three years, and resigned his commission on 1 November 1861. He died 1 April 1865 near Lynchburg, Virginia and was interred in the Presbyterian Cemetery, Lynchburg, Virginia.
---
Father: William Steptoe (1790-1860) Born 1790, Bedford, Virginia. Died 1860, Kentucky
Mother: Mary Dillon (-)
Marriage:
Mary Rosanna Claytor (1826-1887) Born 1826. Died 7 Apr 1887. Married 18 Jan 1860, Lynchburg, Virginia.
Children:
Rosanna Eliza Steptoe (1862-1864) Born 29 Apr 1862. Died 1 Sep 1864.
Assignments:
Personal Description:
Height:
Build:
Hair Color:
Eye Color:
Links: