Horatio G. Wright
From FortWiki
Horatio G. Wright (1820-1899) - Born 6 Mar 1820 in Clinton, Connecticut. Died 2 Jul 1899 in Washington DC.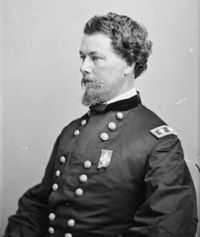 He entered the United States Military Academy and graduated in the Class of 1841, ranking 2nd out of 52 graduates. He was commissioned a 2nd Lt. in the Corps of Engineers.
He superintended construction at Fort Jefferson (1) at Dry Tortugas and Fort Taylor (2) in Key West, Florida. While assistant to the Chief Engineer of the Army, Joseph G. Totten, he was a member of boards to study iron carriages for seacoast guns and the adaptability of the 15-inch gun for ordnance. During the U.S. Civil War command the 6th Army Corps that saved Washington, DC, from capture in 1864. He spearheaded the final assault on Petersburg and the pursuit of Lee to Appomattox in 1865. He served as a member of the Board of Engineers for Fortifications until he was appointed Chief of Engineers in 1879. He retired 6 Mar 1884, and died 2 Jul 1899, in Washington, DC.
He is interred in Arlington National Cemetery, Section 2.
Sources: