Isaac Stevens
From FortWiki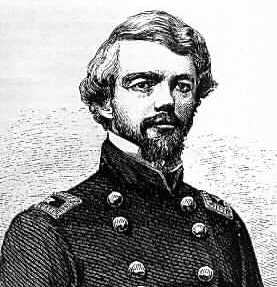 Isaac Ingalls Stevens (1818-1862) - Born 28 Mar 1818 in North Andover, Massachusetts, the third child of Isaac & Hannah (Cummings) Stevens. Died 1 Sep 1862 at the Battle of Chantilly in Virginia During the U.S. Civil War. He was the first governor of Washington Territory and served as a brigadier general in the Union Army during the U.S. Civil War. Fort Stevens in Oregon and Stevens County in Washington were named for him.
He attended Phillips Academy in Andover, entered the United States Military Academy at West Point in 1835 at age 16 and graduated first in the Class of 1839. He was commissioned a second lieutenant in the U.S. Army Corps of Engineers, "Totten's Engineer Corps".

Governor of Washington Territory
Isaac Stevens was a vocal supporter of Franklin Pierce's candidacy for President of the United States in 1852. In 1853 he was rewarded by being named governor of the newly created Washington Territory. On the way to his assume the governorship he mapped and surveyed a railroad route across the northern United States he spent most of 1853 surveying his way to Washington Territory. He assumed his post as governor in Nov 1853.
Stevens was a controversial governor because he used a combination of intimidation and force to compel the Indian tribes to sign treaties that handed over most of their lands and rights to the territory. When Stevens was met with resistance, he used the troops at his disposal to exact vengeance. His winter campaign against the Yakama tribe and his execution of the Nisqually chieftain Leschi led a number of powerful citizens in the territory to ask President Pierce to remove Stevens, Pierce refused to remove the governor. The citizens of Washington Territory saw Stevens on the side of the white settlers as being on the side of the "Indians" and Stevens was popular enough to be elected the territory's delegate to Congress in 1857.
U.S. Civil War
When the Civil War began in 1861, Stevens was commissioned in the Army again, this time as Colonel of the 79th New York Volunteers, known as the Highlanders. He became a brigadier general on September 28, 1861, and fought at Port Royal. Stevens was promoted to major general on July 4, 1862, serving under Major General John Pope in the Northern Virginia Campaign and the Second Battle of Bull Run. He was killed in action at the Battle of Chantilly in Virginia while picking up the fallen regimental colors of his old regiment, shouting "Highlanders, my Highlanders, follow your general!" Charging with his troops while carrying the banner of Saint Andrew's Cross, Stevens was struck in the head by a bullet and died instantly. His son Hazard was wounded in the same battle and was later awarded the Congressional Medal of Honor for his actions at Fort Huger, Virginia, 19 Apr 1863. Also killed the same day was General Philip Kearny, whose unit had come to reinforce General Stevens
Isaac Stevens was buried in Newport, Rhode Island.
General Stevens had two Forts named after him, Fort Stevens in Oregon and Fort Stevens in Washington D.C.

---
Father: Isaac Stevens (1785-) born 10 May 1785 in Andover, Essex, MA
Mother: Hannah Cummings (1785-) born 23 Oct 1785 in Andover, Essex
Spouse:
Margaret Lyman Hazard (1817-) born 8 Apr 1817 in Newport, Rhode Island. Married 8 Sep 1841, Newport, Rhode Island
Children:
Hazard Stevens (1842-1918)- Medal of Honor winner in U.S. Civil War
Julia Virginia Stevens (1844-) born 2 Jun 1844
Susan Stevens (1846-) born 20 Nov 1846 in Andover, Essex, MA
Maude Stevens (1850-) born 29 Apr 1850
Kate Stevens (1852-) born 28 Nov 1852
Assignments:
(1835-1839) (Cadet) United States Military Academy
(1839-1840) 2nd Lt. (1839),Fort Adams (1), Newport, R.I
(1840-1841) 1st Lt. (1 Jul 1840),Fort Adams (1), Newport, R.I
(1847-1847) () Mexican War
(1849-1853) (Capt.) Ran the Washington office of the U.S. Coast Survey.
16 Mar 1853 Resigned his commission.
25 Nov 1853 – 11 Aug 1857 Governor of Washington State
(1857-1861) Congressman from Washington Territory
30 Jul 1861 Commissioned Colonel, 79th New York Volunteers
(1861-1861) (Colonel) 79th Regiment of New York Volunteers, known as the Highlanders
28 Sep 1861 Brig.‑General, U. S. Volunteers
(1861-1862) (Brig. Gen., Sep 1861)
4 Jul 1862 Major‑General, U. S. Volunteers
1 Sep 1862 Killed at the Battle of Chantilly, while leading his division in a charge.

Personal Description:
Height: 5' 3"
Build: Short
Hair Color: Coarse dark hair with a small closely trimmed beard.
Eye Color: Hazel
Born with physical impairments that today would be associated with a problematic pituitary gland.
Links: