William T. Sherman
From FortWiki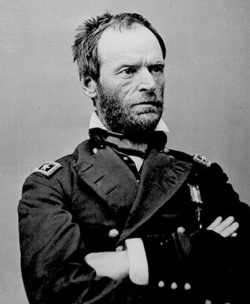 William Tecumseh Sherman (1820-1891) - Born 8 Feb 1820 in Lancaster, Ohio. Died 14 Feb 1891 in New York City.
Born Tecumseh Sherman, he was orphaned at age 9 and informally adopted by Thomas Ewing, later secretary of the interior and U.S. Senator. His foster mother added William as his first name. He attended the Academy at Lancaster, Ohio until 1836, when he obtained an appointment to the United States Military Academy at West Point through his foster father who was then a U.S. Senator. He graduated 6th of 42 in the Class of 1840 and he was appointed to the 3rd U.S. Artillery. He received a brevet for his services in California during the Mexican War but resigned in 1853 as a captain and commissary officer.
William married Eleanor Boyle Ewing, the daughter of his foster father Thomas Ewing, 1 May 1850 at Blair House, Washington, D.C.
The years until the U.S. Civil War were not filled with success. Living in California and Kansas, he failed in banking and the law. In 1859 he seemed to have found his niche as the superintendent of a military academy which is now Louisiana State University. However, he resigned this post upon the secession of the state and went to St. Louis as head of a streetcar company and then volunteered for the Union army
U.S. Civil War
On May 8, 1861, Sherman wrote to the Secretary of War, offering his services for three years. On June 20, 1861 he accepted the grade of Colonel in the 13th U.S. Infantry. He assumed command of a brigade in the First Division of McDowell's army under the command of Brigadier-General Daniel Tyler. His brigade, stationed at a stone bridge during the battle of First Manassas (Bull Run), was routed by devastating Confederate cannon fire.
In August, 1861, Sherman was promoted to Brig. General and assigned to the Department of the Cumberland under the command of Brig. General Robert Anderson. Anderson was in command of Fort Sumter when P.G.T. Beauregard opened fire upon it, beginning the war. Sherman had previously served under Anderson, and Anderson requested that Sherman be transferred to his command. On February 13, 1862, Sherman assumed the command of the post at Paducah Kentucky relieving U.S. Grant of that position. Sherman was placed in command of the Fifth Division of The Army of the Tennessee.
The Army of the Tennessee saw its first battle at Shiloh. With green troops, the North lost the first day's battle, but with re-enforcements from Buell and the Army of the Cumberland, routed the Confederate troops. In July 1862, Sherman was assigned to command the District of Memphis. Later that year Sherman failed to seize the Confederate stronghold of Vicksburg, but was with Grant in the campaign that finally ended in the capture of that city in July 1863. Sherman was given command of the Army of the Tennessee in the fall of 1863 and fought in the Battle of Chattanooga with his troops unsuccessfully assaulting Missionary Ridge. Later Federals did capture the Ridge and Bragg's troops retreated eastward.
The March to the Sea
In the spring of 1864, Sherman was made supreme commander of the armies in the West and was ordered by Grant to "create havoc and destruction of all resources that would be beneficial to the enemy." With a grand aggregate of 98,797 troops and 254 cannons, on May 4, 1864, Sherman began the Atlanta Campaign.
Sherman found fierce resistance from the Confederate troops under Joe Johnston and later Hood. On September 1, 1864, Sherman's troops captured the city of Atlanta, but not before Hood destroyed the railroad yards. Sherman declared Atlanta to be a military encampment and ordered the civilians to leave the city.
Sherman wanted to split the Confederacy, and began planning his March to the Sea. He kept his most seasoned veterans, 60,000 in all and sent the rest of the troops back to Nashville to be under the command of Major-General George Thomas. With four Corps of troops in two columns, in November 1864, Sherman began his infamous March to the Sea. Prior to leaving Atlanta, he set fire to munitions factories, railroad yards, clothing mills, and other targets that could be resourceful to the Confederacy. Sherman never intended to burn the whole city, but the fire got out of hand and spread throughout the city.
With the four Corps in two columns, Sherman cut a swath 60 miles wide marching towards Savannah, destroying anything that could aid or be resourceful to the enemy. On December 23, 1864, Sherman sent a telegram to Lincoln stating that he was presenting him the city of Savannah as a Christmas gift.
Post War
After the war, Sherman was commissioned Lt. General in the regular army, and after Grant was elected president, he was promoted to the grade of full general and given command of the U. S Army. He retired from active service 8 Feb 1884 and died in New York city 14 Feb 1891. He was buried in Calvary Cemetery, St. Louis, Missouri.
---
Father:
Charles Robert Sherman, birth father (1788-1829) Born 26 Sep 1788, Norwalk, CT. Died 24 Jun 1829.
Thomas Ewing, foster father (1789-1871) Born 28 Dec 1789, West Liberty, Ohio County, Virginia (now West Virginia). Died 26 Oct 1871. Thomas Ewing raised William from the age of 9.
Mother:
Mary Hoyt, birth mother (1787-1852) Born 28 Dec 1787, Norwalk, Fairfield, CT. Died 23 Sep 1852, Mansfield, Richland, Ohio.
Maria Wills Boyle, foster mother (1801-1864) Born 1 Jan 1801, Chillicothe, Ross, Ohio. Died 20 Feb 1864, Lancaster, Fairfield, Ohio.
Marriage:
Eleanor Boyle Ewing (1824-1888) Born 4 Oct 1824, Lancaster, Fairfield Ohio. Died 28 Nov 1888, New York City. Married 1 May 1850 at Blair House, Washington, D.C.
Children:
Maria Ewing Sherman (1851-1913) Born 28 Jan 1851, Lancaster, Fairfield, Ohio. Died 22 Nov 1913, Gulfport, Harrison, Mississippi.
Mary Elizabeth Sherman (1852-1925) Born 17 Nov 1852, Lancaster, Fairfield, Ohio. Died 6 Apr 1925, Boston, Suffolk, MA.
William Tecumseh (1854-1863) Born 8 Jun 1854, Lancaster, Fairfield, Ohio. Died 10 Oct 1863, Lancaster, Fairfield, Ohio.
Thomas Ewing Sherman (1856-1933) Born 12 Oct 1856, San Francisco, California. Died 29 Apr 1933. Catholic Priest.
Eleanor Mary Sherman (1859-1915) Born 5 Sep 1859, Lancaster, Fairfield, Ohio. Died 18 Jul 1915, Neuilly, France.
Rachel Ewing Sherman (1861-1919) Born 5 Jul 1861. Died 26 Oct 1919.
Charles Celestine Sherman (1864-1864) Born 11 Jun 1864, Lancaster, Fairfield, Ohio. Died 4 Dec 1864, Lancaster, Fairfield, Ohio.
Philemon Tecumseh Sherman (1867-1941) Born 9 Jan 1867. Died 6 Dec 1941.
Assignments:
(1836-1840) Cadet, United States Military Academy at West Point
(1840-1841) 2nd Lt. (1 Jul 1840), 3rd U.S. Artillery, Fort Pierce, Seminole War, Florida
(1841-1842) 1st Lt. (30 Nov 1841), Fort Morgan, Mobile Point, Florida
(1842-1846) 1st Lt. Fort Moultrie, Charleston, South Carolina
(1846-1850) 1st Lt. Adjutant-general of the Department of California, Monterey, California
(1850-1853) Capt. (27 Sep 1850), commissary duty at Jefferson Barracks, St. Louis, Missouri and New Orleans
(1853) (6 Sep 1853), Resigned his commission
(1853-1861) Civilian life
(1861-1865) Union U.S. Civil War

(1861-1862) Col. (May 1861), 13th U.S. Infantry, Brig. Gen. of Volunteers (May 1861)
(1862-1863) Maj. Gen. of Volunteers (May 1862)
(1863-1864) Brig. Gen. Regular Army (Jul 1863)
(1864-1866) Maj. Gen. Regular Army (Aug 1864)

(1866-1869) Lt. Gen. Regular Army (Jul 1866)
(1869-1883) Full General (8 Mar 1869), Commander of the Army
(1883) Retired 1 Nov 1883
Personal Description:
Height:
Build:
Hair Color: Red
Eye Color:
Links: