Battery Dynamite (2)
From FortWiki
Battery Dynamite (2) (1897-1902) - Battery Dynamite (2) was a concrete, experimental 15-inch coastal gun battery on Fort Welles, Hilton Head, Beaufort County, South Carolina. Deactivated in 1902.
Part of the Harbor Defense of Port Royal Sound.
Originally built as an experimental concrete coastal gun battery with one 15" M1886 pneumatic dynamite gun mounted on an M1886 Pneumatic carriage. This was a single-story battery with the gun located on the same level as the magazine. Shells were moved from the magazine to the gun loading platform by shell cart. No shell or powder hoists were provided. Electrical power was furnished by the emplacement power plant.
The gun was powered by compressed air that drove the explosive shells out of the gun tubes. The explosive used in the shells was dynamite. Dynamite shells could not be used in normal guns because the impact of the propellant firing would trigger the dynamite and the shells would explode while still in the gun tube. Compressed air drove the shells out of the gun tube at a lower velocity and with less impact. Because of the lower pressure and no explosive propellant, the gun tubes were very thin and actually required a cantilevered support to keep the gun tube rigid.
Since the gun was experimental, the contractor provided the guns, carriages, and the emplacements as well as the considerable amount of machinery necessary to produce the highly compressed air. Two steam engines powered an electrical generator and the two air compressors that furnished compressed air at 2,000 psi to the gun emplacement.
The gun was successfully test-fired on 8 Dec 1901 and reportedly fired more than 100 projectiles before it was deactivated. The Battery was deactivated in 1902 and the guns and carriages were removed and later salvaged in 1917.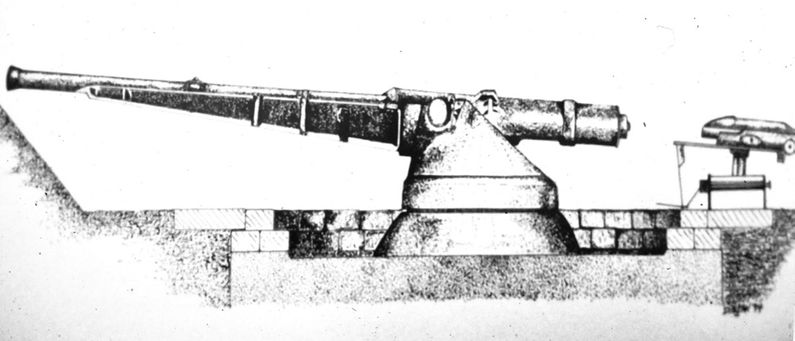 Battery Dynamite (2) Armament (edit list)
Empl
No
Caliber
Type
Barrel
Length
Model
Serial
No
Manufacturer
Carriage
Service
Dates
Notes
1
15" Rifle
40'
M1886
unk
Pneumatic Torpedo
Pneumatic, M1886,
#unk, Pneumatic Torpedo
1897-1902
Source: CDSG, Berhow, Mark A. ed, American Seacoast Defenses: A Reference Guide, 2nd Edition, CDSG Press, McLean, VA, 2004, ISBN 0-9748167-0-1, pages 184-187
Current Status
The battery is in ruins, with no period guns or mounts in place. Two walls of the power plant are partially upright, only the foundations of the steam plant remain, and the gun emplacement is all broken up but recognizable. Markers and signage are in place to explain the site.
Public access to the site is limited because the site is within the confines of the gated Palmetto Dunes Resort. The best option for viewing is by a fort tour conducted by the Coastal Discovery Museum at Hilton Head. As of 2018 the Museum conducts this guided tour on Wednesdays at 10 am and it visits Fort Welles, the Steam Gun (Dynamite Battery), and Fort Sherman (4), the tour guide was very knowledgeable. You can reserve this tour online, a fee applies.
---
Location: Fort Welles on Hilton Head Island, Beaufort County, South Carolina

Maps & Images

Lat: 32.2355 Long: -80.6776
See Also:
Sources:
Links:
Visited: 7 Mar 2018