Battery Hogan
From FortWiki
Battery Hogan (1898-1917) - Battery John Hogan was a reinforced concrete, Endicott Period 4.72 inch rapid fire coastal gun battery on Fort San Jacinto, Galveston County, Texas. The battery was named in G.O. 194, 27 Dec 1904, after BG John B. Hogan, veteran of the War of 1812. Battery construction started 22 Mar 1898, was completed 23 Jun 1899 and transferred to the Coast Artillery for use 25 Oct 1899 at a cost of $ 41,000. The Battery was damaged by the 1900 Galveston hurricane and was repaired between 1901 and 1907 and was accepted for service 21 Aug 1911 at a cost of $ 47,268.54. Deactivated in 1917.
Part of the Harbor Defense of Galveston.
Originally built as an Endicott Period concrete coastal gun battery with two 4.72" Armstrong rapid fire guns mounted on Armstrong carriages. At the time of the Galveston hurricane the battery was complete and accepted for service. The hurricane damaged the battery and left it suspended on its pilings. The battery was repaired and the sand ramparts restored between 1901 and 1906 and the guns remounted. Fort San Jacinto was not re-garrisoned until 1911 when instability in Mexico made Fort Crockett a major staging area. The battery was not accepted for service until 21 Aug 1911.

Battery Hogan Armament (edit list)
Empl
No
Caliber
Type
Barrel
Length
Model
Serial
No
Manufacturer
Carriage
Service
Dates
Notes
1
4.72" Rifle
218.4"
Armstrong
12126.
Armstrong
Pedestal, Armstrong, #11007, Armstrong
1898-1919
See note 1
2
4.72" Rifle
218.4"
Armstrong
12125
Armstrong
Pedestal, Armstrong, #11008, Armstrong
1898-1919
See note 1
Source: RCW Form 1, Aug 1921, Coast Defense Study Group, Berhow, Mark A. ed, American Seacoast Defenses: A Reference Guide, 2nd Edition, CDSG Press, McLean, VA, 2004, ISBN 0-9748167-0-1, pages 86, 213
Note 1: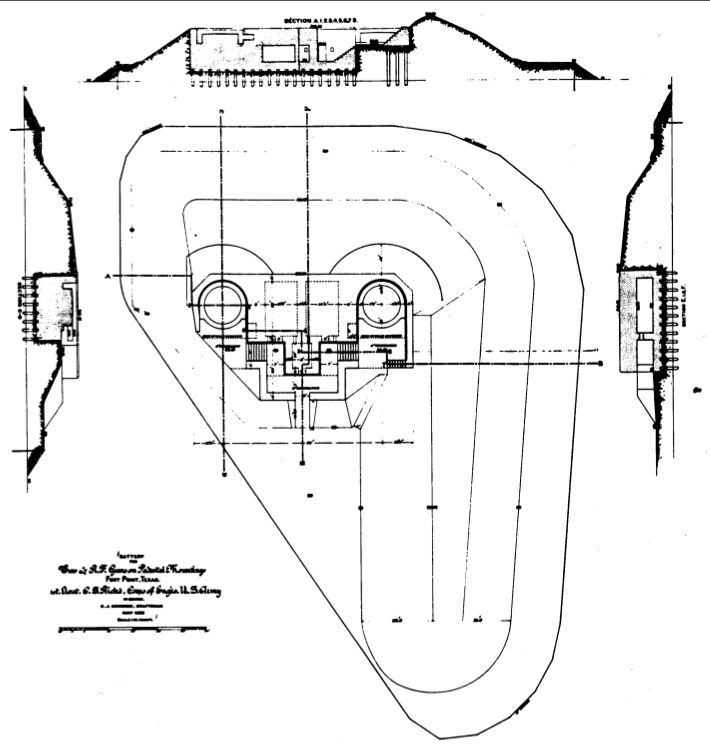 The U.S. entry into World War I resulted in a widespread removal of large caliber coastal defense gun tubes for service in Europe. Many of the gun and mortar tubes removed were sent to arsenals for modification and mounting on mobile carriages, both wheeled and railroad. Most of the removed gun tubes never made it to Europe and were either remounted or remained at the arsenals until needed elsewhere. The two Armstrong guns and carriages were among the weapons to be shipped overseas and on 26 Oct 1917 they were transferred to San Francisco for shipment and that is as far as they got. On 18 Apr 1919 they were transferred back to Fort San Jacinto and they were directed to be remounted and retained in Battery Hogan. The A.G.O approved the scrapping of the guns 22 Jul 1919 and they were scrapped 12 August 1920.
Current Status
Nothing remains. No period guns or mounts in place.
---
Location: Fort San Jacinto, Galveston County, Texas.

Maps & Images

Lat: 29.33466 Long: -94.75323
Sources:
Links:
Visited: 12 Nov 2009