Battery Valleau
From FortWiki
Battery Valleau (1907-1917) - Battery John Valleau is a concrete Endicott Period Coastal Battery located on Fort Casey (1), Whidbey Island, Island County, Washington . Named in G.O. 194, 27 Dec 1904, after 1st Lt. John Valleau, 13th U.S. Infantry, who was killed in an assault on Queenstown Heights, Upper Canada, 13 Oct 1812, during the War of 1812. The Battery was begun in October 1903 and completed in March 1907 and transferred to the Coast Artillery on 22 May 1907 at the cost of $92,125. All four guns were transferred from the Battery in 1917.
History
Part of the Harbor Defense of Puget Sound. Battery Valleau was designed to protect the Straight of Juan De Fuca and the Admiralty Inlet to Puget Sound.
Originally built with four, 6" M1905 rifles mounted on M1903 disappearing carriages in two separate batteries connected at an angle to one another. Each of these batteries is a two-story battery with two guns located on the upper level and the magazines and service rooms on the lower level. On the lower level of each battery, a common shell room and a common powder room serve both gun positions. Electrical power was provided from either the plant at Battery Moore, the central power plant, or commercial power. No shell or powder hoists were provided.
Battery Valleau Armament (edit list)
Empl
No
Caliber
Type
Barrel
Length
Model
Serial
No
Manufacturer
Carriage
Service
Dates
Notes
1
6" Rifle
300"
M1905
18
Watervliet
Disappearing, M1903, #76, Detrick & Harvey
1907-1917
2
6" Rifle
300"
M1905
20
Watervliet
Disappearing, M1903, #77, Detrick & Harvey
1907-1917
3
6" Rifle
300"
M1905
21
Watervliet
Disappearing, M1903, #78, Detrick & Harvey
1907-1917
4
6" Rifle
300"
M1905
22
Watervliet
Disappearing, M1903, #83, Bethlehem
1907-1917
Source: RCW Form 1, 1 Mar 1933, CDSG, Berhow, Mark A. ed, American Seacoast Defenses: A Reference Guide, 2nd Edition, CDSG Press, McLean, VA, 2004, ISBN 0-9748167-0-1, pages 98-99, 217
Note 1: Carriages transferred 1906, scrapped 26 May 1920. Guns transferred 31 Dec 1917 to Watervliet. CDSG Gun Card Collection from NARA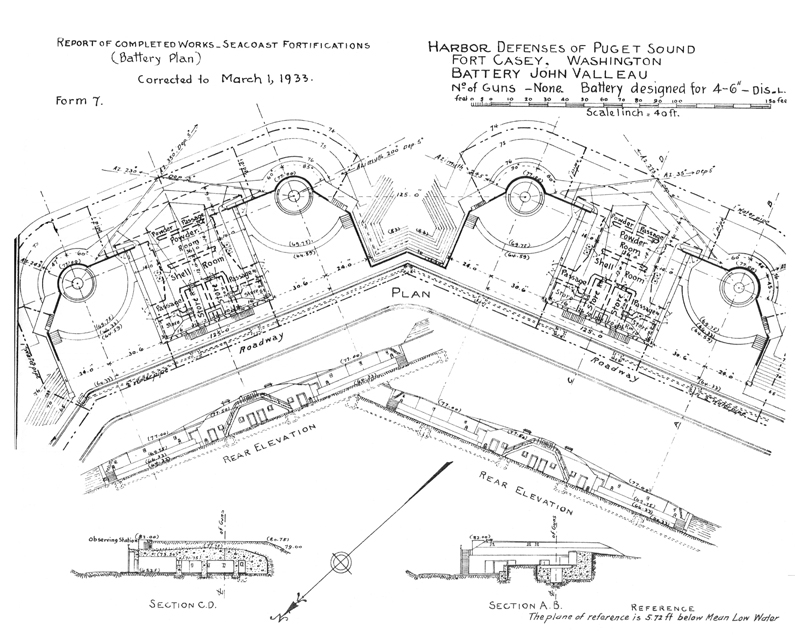 The U.S. entry into World War I resulted in a widespread removal of large caliber coastal defense gun tubes for service in Europe. Many of the gun and mortar tubes removed were sent to arsenals for modification and mounting on mobile carriages, both wheeled and railroad. Most of the removed gun tubes never made it to Europe and were either remounted or remained at the arsenals until needed elsewhere. The four 6" guns at Battery Valleau were listed for service overseas on 27 Aug 1917 and by 18 Jul 1918, they had been transferred. The guns were actually transferred on 31 Dec 1917 to Watervliet Arsenal, three of them were actually shipped to France (#18, #21, #22). These three guns were all returned to the U.S. after the end of the war and all three were reused in World War II batteries. The fourth gun, #22, did not make it overseas and was not reused in World War II.
Battery Valleau was not rearmed after the end of World War I and the carriages were all scrapped on 26 May 1920.
Current Status
The battery was clean and dry when visited. No guns or carriages were in place.
---
Sources:
Links:
Fortification ID:
Visited: 18 Jul 2008
Picture Gallery