Battery Van Horne
From FortWiki
Battery Van Horne (1903-1945) - Battery Isaac Van Horne is a concrete Endicott Period Coastal Battery located on Fort Casey (1), Whidbey Island, Island County, Washington. Named in G.O. 194, 27 Dec 1904, after Capt. Isaac Van Horne Jr., 19th U.S. Infantry, who was killed in action at Fort Mackinac, Michigan, in 1814, during the War of 1812. The Battery was begun in August 1903 and completed in June 1905 and transferred to the Coast Artillery on 22 May 1907 at the cost of $14,695. The guns were removed in 1945.
Part of the Harbor Defense of Puget Sound. Battery Van Horne was designed to protect the Straight of Juan De Fuca and the Admiralty Inlet to Puget Sound.
Originally built with two, 3" M1903 rifles mounted on M1903 barbette pedestal carriages. The original guns were removed in 1945 during World War II.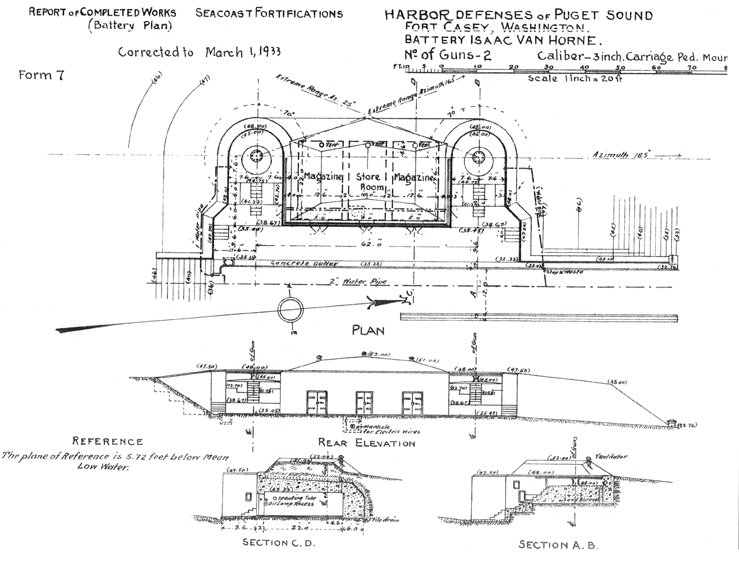 Current Status
No period guns or carriages in place.
---
Location: Fort Casey (1), Whidbey Island, Island County, Washington

Maps & Images

Lat: 48.16191 Long: -122.682438



GPS Locations:

{{GPSLinkLong|Lat=48.16191|Lon=}-122.682438} Battery Van Horne



Sources:
Links:
Fortification ID:
WA0067 - Battery Van Horne
Visited: 18 Jul 2008
Picture Gallery