Battery Worth (1)
From FortWiki
Battery Worth (1) (1902-1942) - Battery William Worth is a concrete Endicott Period Coastal Battery located on Fort Casey (1),Whidbey Island, Island County, Washington. Named in G.O. 20, 25 Jan 1906, after BG William S. Worth, who served with distinction during the U.S. Civil War and the Spanish-American War, and who died 16 Oct 1904. The Battery was begun in 1897 and completed in 1898 and transferred to the Coast Artillery on 16 Jun 1902 at a cost of $51,947. The battery was inactivated in 1942 during World War II.
History
Part of the Harbor Defense of Puget Sound. Battery Worth was designed to protect the Straight of Juan De Fuca and the Admiralty Inlet to Puget Sound. The 10" guns could fire a 571-pound projectile over 8 miles.
Originally built with two, 10" M1895 rifles mounted on M1896 disappearing L.F. carriages. This was a two-story battery with guns on the upper level and separate magazines and support rooms below. Shell hoists were provided to move the projectiles from the magazine level up to the loading platform. Electric power could be furnished from commercial power, the central power plant, or the power plant in the #3 emplacement of Battery Moore.
In 1915 a BC post was built on a free-standing concrete tower at the rear of the battery and a separate plotting room was built at the rear of the center of the battery. Both were accepted for service on 31 Mar 1915.
Battery Worth Armament (edit list)
Empl
No
Caliber
Type
Barrel
Length
Model
Serial
No
Manufacturer
Carriage
Service
Dates
Notes
1
10" Rifle
369.15"
M1895
12
Watervliet
Disappearing Carriage L.F.,
M1896, #59, Bethlehem
1902-1942
See note 1
2
10" Rifle
369.15"
M1895
15
Watervliet
Disappearing Carriage L.F.,
M1896, #60, Bethlehem
1902-1942
See note 1
Source: RCW Form 1, 1933, CDSG, Berhow, Mark A. ed, American Seacoast Defenses: A Reference Guide, 2nd Edition, CDSG Press, McLean, VA, 2004, ISBN 0-9748167-0-1, pages 126-127, 217
Note 1: Guns and carriages ordered scrapped 23 Oct 1942. CDSG Gun Card Collection from NARA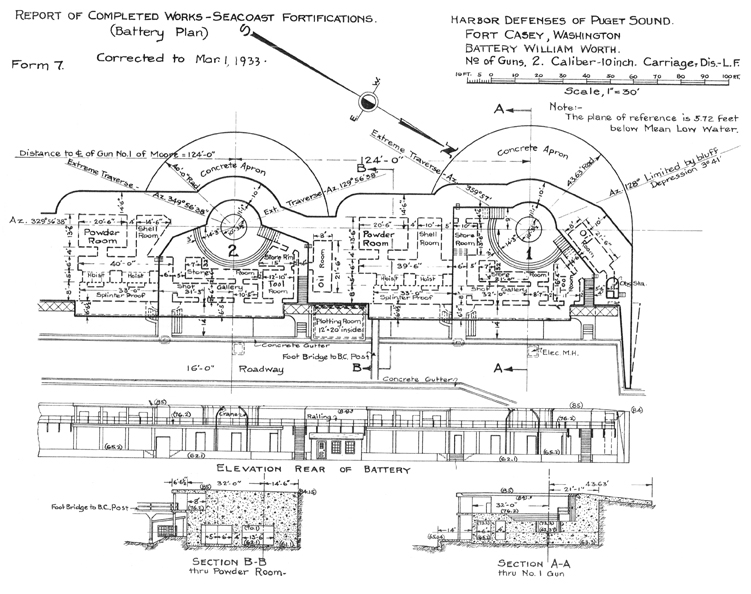 The U.S. entry into World War I resulted in a widespread removal of large caliber coastal defense gun tubes for service in Europe. Many of the gun and mortar tubes removed were sent to arsenals for modification and mounting on mobile carriages, both wheeled and railroad. Most of the removed gun tubes never made it to Europe and were either remounted or remained at the arsenals until needed elsewhere. The two 10" guns at Battery Worth were apparently slated for service abroad but were ordered to be remounted and retained as the war drew to a close.
The original guns and carriages were declared obsolete and ordered scrapped on 23 Oct 1942 during the first large-scale, quota-driven, scrap drive of World War II.
Current Status
Battery Worth has two 10" guns with disappearing carriages currently on display that were obtained in 1967(1963) from Battery Warwick, Fort Wint, Subic Bay, Philippines. The #1 gun is displayed in the raised position while gun #2 is shown in the retracted position. Both breech blocks are missing because they were thrown into the Pacific Ocean to prevent enemy use when Fort Wint was abandoned at the beginning of World War II.
---
Sources:
Links:
Fortification ID:
WA0078 - Battery Worth (1)
Visited: 14 Apr 2010, 18 Jul 2008
Picture Gallery