Fort Canby
From FortWiki
Fort Canby (1852-1947) - Established in 1863 during the U.S. Civil War and activated 15 Apr 1864 at Cape Disappointment, Pacific County, Washington. First named Fort Cape Disappointment and renamed Fort Canby 13 Feb 1875 by War Department General Order No. 5 after General Edward R.S. Canby, who was killed in the Modoc Indian War. Deactivated 28 Mar 1947.
In 1852 the War Department created a military reservation at Cape Disappointment to protect the mouth of the Columbia, but construction did not begin until August 1863. The post was completed and occupied by troops 15 Apr 1864. Several frame garrison buildings were erected and a fortification consisting of three earthwork batteries armed with smoothbore cannons was built to protect the mouth of the Columbia River. Engineer George H. Elliot was charged with building the three batteries which were known as "Lighthouse Battery", "Left Battery" and "Center Battery".
The Lighthouse Battery had a total of seven guns, two 8", four 10" and one huge 15" Rodman smoothbore mounted on a center pintle in front of the lighthouse. All three batteries were to meant house a total of 22 guns.
An 1870 report indicated that the post had a single two-story barracks, 80 by 30 feet and 28 foot high, three small frame officers' quarters, a guard house and a small eight-bed hospital. The guard house is described as built on pilings over the water and as having fourteen cells, four dark.
The fort is said to be the site where, on 15 Nov 1805, members of the Lewis and Clark Corps of Discovery first stepped into the breaking surf of the Pacific Ocean.
Part of the Harbor Defense of the Columbia. Two other forts, Fort Stevens on the Oregon side and Fort Columbia on the Washington side of the Columbia River completed the Harbor Defense System.
Between 1896 and 1908, after a long period of neglect during which the fort and its armament had become obsolete, the Army completely renovated them. New barracks and other buildings were constructed, and two batteries (Battery Harvey Allen and Battery O'Flyng) with a total of five rifled guns in concrete emplacements were installed.

In 1921 a new mortar battery, Battery Guenther, with four 12" mortars was added with the mortars coming from Battery Clark on Fort Stevens.

The fort remained in caretaker status from the end of World War I to 21 Feb 1941 manned only by a sergeant and two enlisted men. The fort was reactivated in 1941 and in 1944 Battery 247 was added on McKenzie Head. In 1947 the fort was deactivated. Present surviving structures date from the World War II period.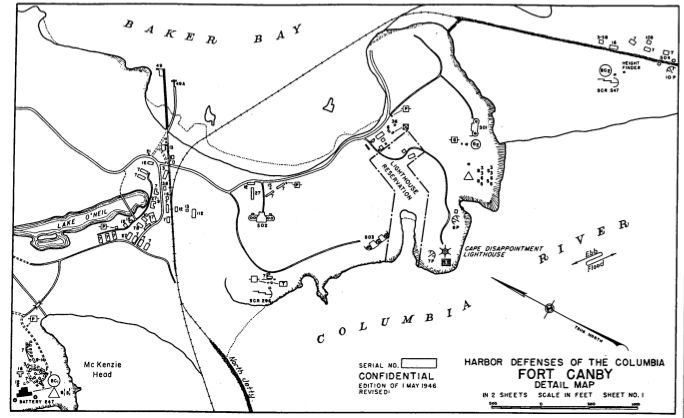 Current Status
Part of Cape Disappointment State Park. No period guns or carriages in place.
---
Location: Cape Disappointment State Park,
Cape Disappointment, Pacific County, Washington

Maps & Images

Lat: 46.278602 Long: -124.053326



GPS Locations:
See Also:
Sources:
Links:
Fortification ID:
WA0094 - Fort Canby
WA0095 - Fort Cape Disappointment
Visited: 17 Sep 2015, 16 Feb 2008, Sep 2005
Picture Gallery