Sandy Hook Proving Ground
From FortWiki
Sandy Hook Proving Ground (1874-1919) - A U.S. Army Ordnance Department proving ground first established in 1874 at Sandy Hook in Monmouth County, New Jersey. Abandoned for Aberdeen Proving Ground in 1919.
History of Sandy Hook Proving Ground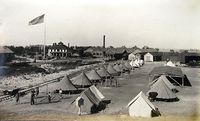 Established in 1874 on Sandy Hook next to Fort Hancock. A "Proof Battery," was built to test new and converted guns near the north end of the Hook on the ocean side. The firing range extended 3,000 yards south along the beach. The first gun tested was one of the 10" Rodman smoothbore guns that had been converted to an 8" rifled muzzle loader. The gun fired 700 rounds and was declared "sound and serviceable."
The original "Proof Battery" was in service from 1874 to 1900 but a dispute over the boundaries of adjacent Fort Hancock forced the construction of a new "Proof Battery" some 300 yards away. The second "Proof Battery" was completed in 1901 and operated until the transfer to Aberdeen Proving Ground was complete in 1919.
With the advent of large caliber steel breech loaded guns and mortars in the 1880s the gun manufacturers shipped their finished gun tubes to Sandy Hook for acceptance tests and distribution to coastal fortifications. The proving ground built a proof battery to mount and test the gun tubes. Gun powder, artillery shells, primers, and fuses were developed and tested at Sandy Hook.
The test range at Sandy Hook proved to be far too short for the rapidly evolving gun technology and the decision was made to move the Proving Ground to the Aberdeen Proving Ground in Maryland where a longer range would be available. The move began in 1917 and was completed in 1919.
Current Status
Part of the Sandy Hook Unit of Gateway National Recreation Area, part of the National Park System. Remains of the proof battery and other foundations at Sandy Hook, Monmouth County, New Jersey.
---
Location: Sandy Hook, Monmouth County, New Jersey.

Maps & Images

Lat: 40.4679353 Long: -73.9995664
See Also:
Sources:
Roberts, Robert B., Encyclopedia of Historic Forts: The Military, Pioneer, and Trading Posts of the United States, Macmillan, New York, 1988, 10th printing, ISBN 0-02-926880-X, page 516-518.
Links:
Visited: 12, 14 Aug 2010