Yorke Island Fort
From FortWiki
Yorke Island Fort (1939-1946) - A World War II fortification established in 1939 on Yorke Island, British Columbia. Abandoned in 1946. Also known as Yorke Island Battery.
History of Yorke Island Fort
Part of the Harbor Defense of Vancouver in British Columbia.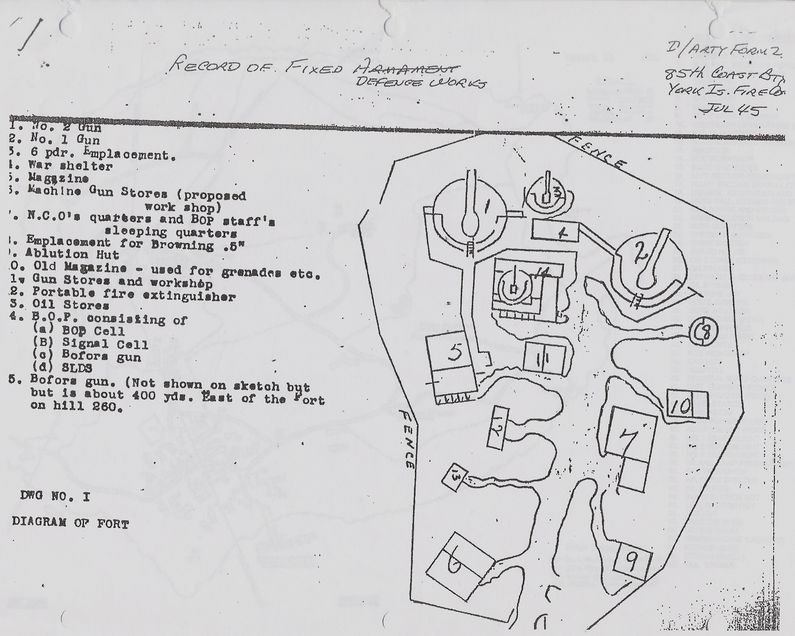 Established in 1939 during World War II on Yorke Island to guard Johnstone Strait and the back entrance to Vancouver Harbor. The battery was initially armed with two 4.7" quick firing (QF) guns and manned by batteries of the Canadian 15th Coast Artillery which had been mobilized 25 Aug 1939. Also emplaced was a 6-pounder Hotchkiss "examination gun" and two 40mm Bofors antiaircraft guns. Three searchlights were also emplace on the island. The two original 4.7" guns were exchanged in 1942 for two 6" MK7 guns on MK2 mounts from the Ferguson Point Battery in Vancouver.
The remote and difficult to access post was self contained with some 60 buildings. A lack of fresh water was overcome with a 50,000 gallon concrete water tank filled by a barging bring in water. The post was decommissioned by early 1946.
Current Status
Because of the difficulty in accessing the island much of the post remains in a deteriorating condition under what is now a Conservancy protected by British Columbia Parks.
---
Location: Yorke Island in British Columbia.

Maps & Images

Lat: 50.445549 Long: -125.978986
See Also:
Sources:
Nicholson, G.W.L., Fixed Coast Artillery Defences on the Pacific Coast, 8 May 1944, AHQ Report, PDF
Links:
Visited: No