Zachary Taylor
From FortWiki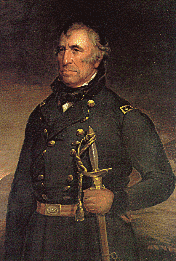 Zachary Taylor (1784-1850) - Born 24 Nov 1784 in Orange County, Virginia, the third of nine children. Died 9 Jul 1850 in Washington D.C. while President of the United States.
Zachary Taylor was born in a log cabin to Richard Taylor and Sarah Strother, near Barboursville, Virginia. He was taken as an infant to Kentucky and raised on a plantation. He was a career officer in the Army. His home was in Baton Rouge, Louisiana, and he owned a plantation in Mississippi.
He spent a quarter of a century policing the frontiers against Indians. In the Mexican War he won major victories at Monterrey and Buena Vista. President Polk kept him in northern Mexico and sent an expedition under General Winfield Scott to capture Mexico City. Taylor, incensed, thought that "the battle of Buena Vista opened the road to the city of Mexico and the halls of Montezuma, that others might revel in them."
"Old Rough and Ready's" homespun ways were political assets. His long military record appealed to northerners; his ownership of a plantation appealed to the south. He had not committed himself on these issues. The Whigs nominated him to run against the Democratic candidate and he was elected the 12th President of the United States in 1848.
Although Taylor had subscribed to Whig principles of legislative leadership, he was not inclined to be a puppet of Whig leaders in Congress. He acted at times as though he were above parties and politics. As disheveled as always, Taylor tried to run his administration in the same rule-of-thumb fashion with which he had fought Indians.
In February 1850 President Taylor had held a stormy conference with southern leaders who threatened secession. He told them that if necessary to enforce the laws, he personally would lead the Army. Persons "taken in rebellion against the Union, he would hang ... with less reluctance than he had hanged deserters and spies in Mexico." He never wavered.
In 1850 he got sick after eating cherries and milk at a July 4 celebration in Washington D.C. He died on 9 Jul 1850. He was the second president to die in office. Buried in Zachary Taylor National Cemetery, Louisville, Jefferson County, Kentucky
---
Father: Richard Taylor (1744-1829)
Mother: Sarah Dabney Strother (1760-1822)
Marriage:
Margaret Mackall Smith (1788-1852) married on 21 Jun 1810 in Jefferson County, Kentucky.
Children:
Ann Mackall Taylor (1811-1875) - married Robert Crooke Wood on 20 Sep 1829 in Fort Crawford (1), Prairie Du Chien, Wisconsin
Sarah Knox Taylor (1814-1835) - married Jefferson Davis
Octavia P. Taylor (1816-1820)
Margaret Smith Taylor (1819-1820)
Mary Elizabeth Taylor (1824-1909) - married Colonel William W. S. Bliss
Richard Taylor (1826-1879) - became a Confederate Lieutenant-General
Assignments:
(1808) 1st Lt.(3 May 1808) Commissioned, 7th U.S. Infantry
(1808-1810) 1st Lt., New Orleans & 2 year furlough to recuperate from illness
(1810-1814) Captain (30 Nov 1810), 7th U.S. Infantry, Command of Fort Harrison, Indiana Territory
(1814) Resigned commission (army reduced to 10,000)
(1829-1837) Major, Black Hawk War, Fort Crawford (1), Wisconsin
(1837-1838) Major, Seminole War II, Fort Gardner, Florida
(1838-1840) Brigadier general, command of the entire Florida district
(1840-1841) Brigadier general, command of U.S. troops assembled at Fort Jesup, Louisiana
(1841-????) Commander of the Second Division of the U.S. Army, Fort Smith, Arkansas
(1846-1847) General, Mexican War
(1849-1850) President of the United States

Personal Description:
Height: 5' 8" -or- 5' 9"
Build: long arms, short, stubby legs and a thick torso.
Hair Color:
Eye Color:
Links:
Sources:
Bauer, Jack K. Zachary Taylor: Soldier, Planter, Statesman of the Old Southwest. Louisiana State University Press: 1993. ISBN 0807118516
Smith, Elbert B. The Presidencies of Zachary Taylor and Millard Fillmore. University Press of Kansas: 1988. ISBN 070060362X.