Jewell Island Military Reservation
From FortWiki
Jewell Island Military Reservation (1922-1946) - A World War II Coastal Military Reservation first established in 1922 on Jewell Island in Cumberland County, Maine. Named in War Department G.O. 8, 1937. Abandoned in 1946. Assigned Location ID ME00064.
Part of the Harbor Defense of Portland, Maine.
A small 3.71-acre site was purchased in 1922 as the first parcel of land on the Jewell Island Military Reservation. The reservation was not named until 1937. In 1942 an additional 56 acres was purchased. The remainder of the Island, 166 acres, was purchased in 1943.
Facilities constructed on the reservation included Battery 202 and BC Station, Battery AMTB 967, Battery AMTB 968, a large concrete fire control station and an SCR-296 fire control radar set. The 90mm AMTB batteries had a primary defense mission against enemy motor torpedo boats and a secondary defense mission against aircraft attack. Battery AMTB 968 was positioned on the north end of the island and Battery AMTB 967 was positioned on the south end of the island. Each AMTB battery usually included the two fixed-mount 90mm guns, two mobile mounted 90mm guns, and two or more 37mm. This configuration was variable and, depending on the threat level, the mobile guns may have been in storage.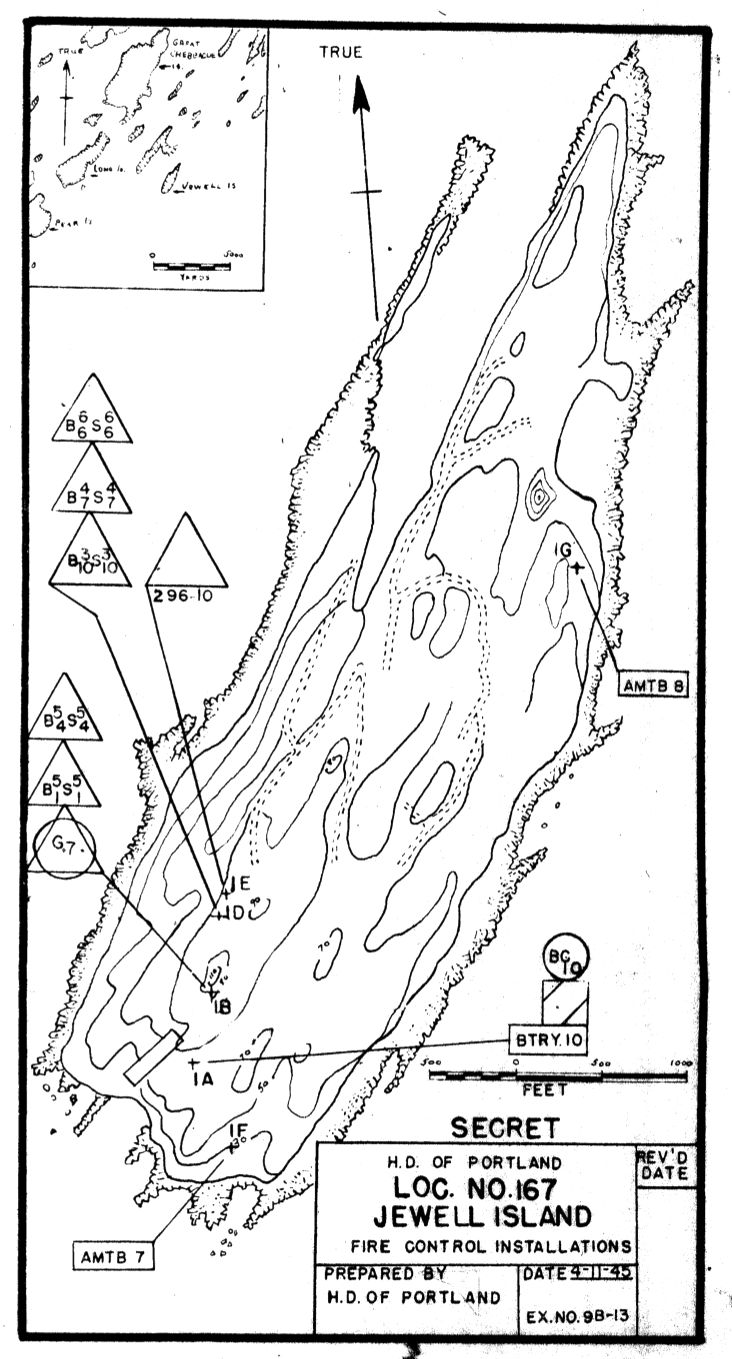 Current Status
Part of Jewell Island, Cumberland County, Maine.
Location: Jewell Island, Cumberland County, Maine.

Maps & Images

Lat: 43.681828 Long: -70.092429
See Also:
Sources:
Roberts, Robert B., Encyclopedia of Historic Forts: The Military, Pioneer, and Trading Posts of the United States, Macmillan, New York, 1988, 10th printing, ISBN 0-02-926880-X, page 365
* U.S. Army Corps of Engineers, FUDS Archives Search Report, Findings, Jewell's Island Military Reservation , Project No. D01ME012602, September 1995. Large PDF Download
U.S.Army, Supplement to the Harbor Defense Project of Portland, Maine, (HDPB-AN-45), 11 Apr 1945, CDSG
Links:
Visited: No