Fort Louis (2)
From FortWiki
Fort Louis (2) (1691-1713, 1744-1790's) - A French Colonial period Fort established in 1691 near Jerseyside, Newfoundland. Probably named Fort Louis after governor Louis de Pastour de Costebelle. Came under British control after the Treaty of Utrecht (1713). Rebuilt and renamed New Fort by the British. Abandoned in 1790s.
History
Established by the French in 1691 on the north side of the gut at present day Jerseyside on the Avalon Peninsula of Newfoundland. The fort was a replacement for Fort Plaisance which had been destroyed in 1690 by English freebooters.
The fort was said to be 300 paces in circumference with two bastions. The fort enclosed the governor's headquarters and garrison barracks that housed some 50 French soldiers. The fort was surrounded by a wooden stockade that was protected by 26 cannons, positioned in batteries on three sides.
Battle of Placentia (1692)
The fort was attacked in September 1692 by English forces in five ships who landed some 500 troops outside the range of the French cannons. The English demand the surrender of the fort and when reused, they unsuccessfully attacked the fort. Six Englishmen were killed in the attack with only one Frenchman wounded. The English squadron withdrew on 21 Sep 1692.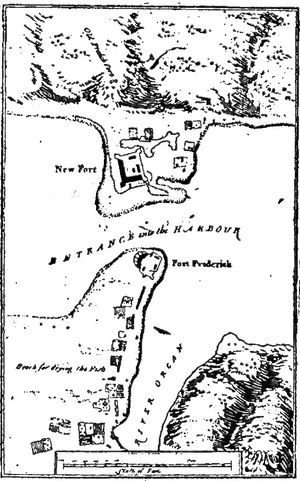 By 1703 Fort Louis had been strengthened and was now a stone structure with walls 16' high and 8' wide.
The Treaty of Utrecht (1713) ended Queen Anne's War and recognized British sovereignty in Newfoundland. The French were forced to abandoned Plaisance and other south coast settlements. The British occupied the town and renamed it Placentia.
Fort Frederick was built by the British in 1717 directly across the gut from the former Fort Louis. Fort Louis had fallen into disrepair and a new fort was built on the ruins of the old Fort Louis by the British, it became known as New Fort.
The New Fort was abandoned sometime in 1790s.

Current Status
Archeological remains.
---
Location: Jerseyside, Newfoundland and Labrador.

Maps & Images

Lat: 47.25124 Long: -53.9643
See Also:
Sources:
Prowse, D. W. Q.C., LL.D., A History of Newfoundland from the Engish, Colonial, and Foreign Records, 2nd Ed., 1896, London, Eyre and Spottiswoode, Pdf
Links:
Visited: No